We did it! We sang an outdoor concert on a chilly evening, May 1, 2021 in Brockport, NY, a suburb of Rochester. Our audience sat in their cars, watching us through their windshields and listening to us on our own FM station! The forecasted rain held off until the middle of our penultimate number. Best part of the evening? Applause was turned into honking car horns!
The Robert Dean Chorale is a volunteer chorus of more than forty active members. Rehearsals are held weekly, Sunday afternoons 4:00 - 5:00 on zoom.com, with the occasional live rehearsal of small groups of singers.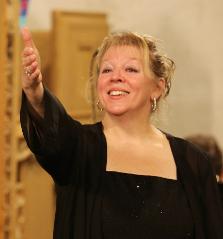 The Chorale is directed by Darla Bair. In December, 2018, she led the Robert Dean Chorale to sing at Radio City Music Hall to open for the Rockettes Christmas Spectacular. She is also the Founder and Artistic Director of the Amadeus Chorale Youth Singers and Secretary of the Greater Rochester Choral Consortium. Darla is pleased you have read this far!
Please email, phone or text to let her know you want to sing with us! email: musictohealourworld@gmail.com
text and phone: 585.494.1795